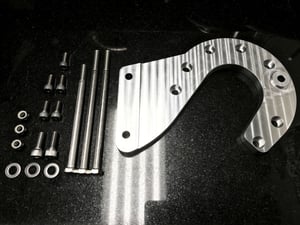 $

275.00
This billet J bracket was designed after finding flex in the Procharger head unit main bracket. We also designed it to allow the user to go from 8 rib to 10 rib spacing when installing this bracket. So a car using Procharger stands for a 6 rib, if you install this bracket it will be spaced for a 8 rib. Alternatively if you use 8 rib stands and install this bracket your supercharger will be spaced correctly for a 10 rib drive belt.
If you do not already have a Procharger bracket you can buy these parts directly from Procharger to make a complete 10 rib supercharger bracket and tensioner:
AB029A-30 Stand off
SP87.406-4.050 Stand off
3GKBB-034 Sub Bracket Assembly
10 Rib Billet Idler Pullies are available on this webstore as well as 10 rib billet ProCharger pullies.